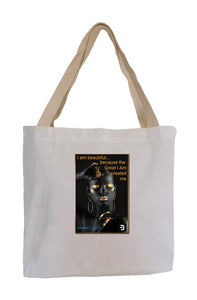 Eco Canvas Tote
This new environmentally made eco tote not only is made from recycled plastic and organic cotton. It reduces waste each time you use it instead of a plastic or paper bag at the grocery store.
Benefits
Recycled Poly/Organic Cotton Canvas
Made In USA
Features
Bag Opening (Flat Across) - 18.25in
Bag Height - 16.25in
Bag Strap Length (half) - 11.75in
Bag Strap Width - 1.25in
For environmental and human friendly reason, this product is only made when you order it. Please allow about a week for it to be made and we will send you tracking information as soon as it's in the mail.